Restaurant and hotel complex "KRAKOW" creates conditions in which any event – a conference, seminar, business meeting – is doomed to success!
Rental price:
Large conference hall for 100 people (137m2) – UAH 3,000.00. in a day;
Small conference hall for 20 people (30 m2) – UAH 1,500.00. in a day.
Hourly rent is possible.
Food:
Coffee break – from UAH 70.00. from a person;
Complex lunch – UAH 145.00. from a person;
Complex dinner – UAH 165.00. from a person.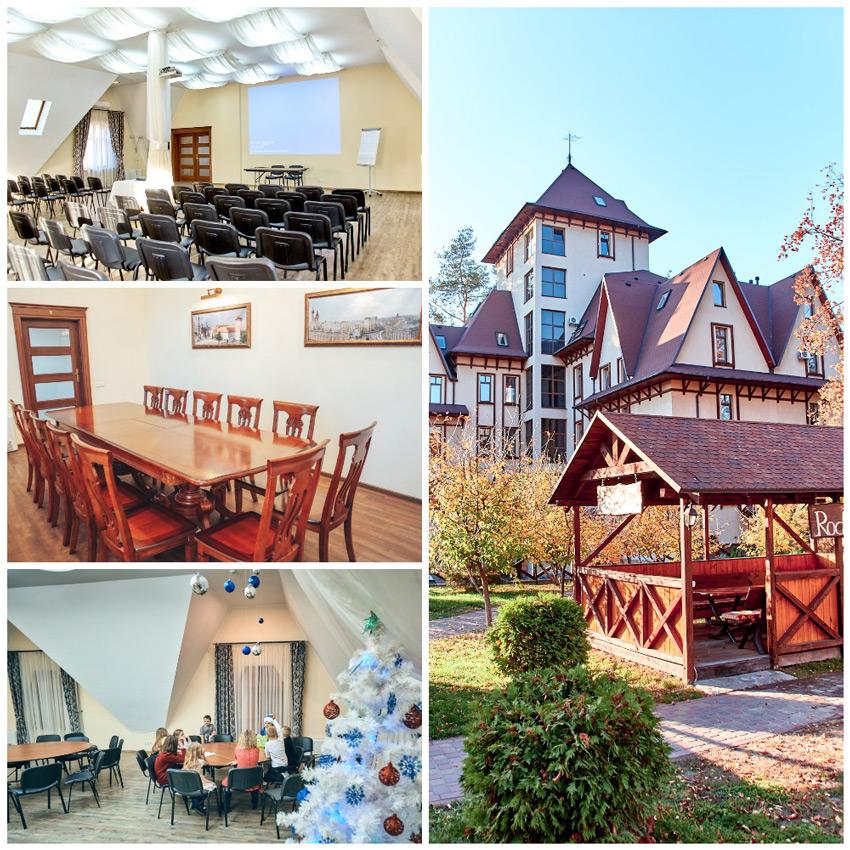 Rental of conference halls outside the city, holding and organizing turnkey conferences from the Krakow team
Organizing a conference is a serious task that requires a serious approach and informed decisions. The formula for its success: interesting speakers, a grateful audience, a decent venue. Hotel and restaurant complex "KRAKOW" is ideal for you if you need a decent place for a responsible event, because we have:
two conference halls of different capacity – for 20 and 100 people. With a neutral decor, equipped on the principle of the audience – the speaker gets enough room for maneuver, the audience – comfortable seats with a good view. We can hold a closed conference for the chosen or a large-scale event with wide advertising and diverse participants with equal success.
professional equipment – multimedia projectors, several plasma panels, high-quality audio equipment. Using it, you can demonstrate training materials of any complexity, duration, quality. The equipment is kept in perfect technical condition, provides adequate transmission of information, so our conferences always end in success.
advantageous location – the complex is located outside the city only formally, because in fact you can reach us by subway (5 minutes' walk from the nearest station) or by car (15 minutes from Khreshchatyk). Address – Brest-Litovsk highway, in itself a great landmark. Guests from other cities will easily find us, and – even more so. There is a parking lot and a separate area.
refreshments – you can choose from a varied buffet, a dynamic coffee break, a full meal for participants, if the conferences are designed for several days. The menu is discussed in advance – the dishes are prepared in the kitchen of the restaurant of the complex with European cuisine, focused on Polish culinary traditions
settlement – the organization of conferences in our country is good because you can receive guests from any city, offering them not only an interesting program of the event, but also the opportunity to live where it is held, saving them from having to look for housing nearby. A modern hotel with rooms of different classes is ready to receive conference guests, providing a high quality of life and service.
Leave application
Our manager will contact you and answer all questions